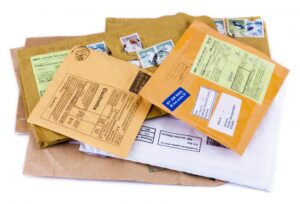 * Costs below reflect rates for 2023 *
How to obtain your cards
There are two methods you can use to keep a supply of envelopes and postage on file with the bureau to get your QSL cards.
Method 1:
You may purchase envelopes and postage directly from the bureau. You simply send in the funds, and the bureau manager will convert those to addressed and stamped 9×6 envelopes for your letter sorter.
The cost is $1.00 per envelope or $12.00 for 12 (this includes first ounce postage). If you expect to get more than six cards per month, include enough extra postage at 25 cents per ounce. Each additional 25 cents will cover about 6-8 more cards (depending on weight/style of cards).
For example, 12 envelopes with one ounce postage each is $12.00. One increment of extra postage is an additional $3.00, or a total of $15.00. Two increments of extra postage is a total of $18.00.
Note: Most users do not get many cards on a regular basis, and do not need the additional postage.
Payment Methods
Paypal payments can be sent directly to the bureau manager at k9eu@att.net. Please include your call sign with your payment.
Please send physical payments to (checks payable to NIDXA)
Northern Illinois DX Association
P.O. Box 125
Naperville, IL 60566
You may send cash, at your own risk.
---
Method 2:
You may elect to keep the bureau supplied with sever 9×6 self-addressed envelopes and first class postage. Please clearly print your call in the upper left corner.
If you expect a large volume of cards, please include additional stamps along with your envelopes. Do not affix these to the envelopes, just send them so the sorter can use them to provide sufficient postage for the number of cards you get each month.
If you want the sorter to wait until you have a certain amount of cards before sending, please note this number on your envelopes. Don't forget the extra postage.
Due to the large volume of envelopes, please only send 6″x9″ (or 5″x7″) envelopes. Smaller envelopes are easier to lose when stored with hundred of other larger envelopes, they may also have trouble fitting some larger DX QSL cards. Envelopes larger than 6″x9″ are difficult for sorters to store, and may also incur additional postage rates.
You may send envelopes to:
Northern Illinois DX Association
P.O. Box 125
Naperville, IL 60566
---
When will you get cards?
As long as you have envelopes on file with us we try to mail your cards to you whenever you have enough to be accommodated by the postage on your envelopes, i.e. 60 cents will cover 5-7 cards, 84 cents 12-15 and so on. Most sorters will not allow several months to pass without making a mailing to you if you have any cards at all. This is why you may receive an envelope with only 2 or 3 cards in it from time to time. Also, if you all of a sudden get a bunch of cards in and have only one unit of postage on your envelopes, don't be surprised to receive an envelope "postage due".
Being a sorter is not an exact science, and we can't read your mind. Please communicate with us if you have questions or special requests. Our goal is to get your cards to you. Most bureau volunteers spend an average of 8-12 hours a month (some much more) handling your cards. Since most of us are avid DXers ourselves and have all spent a great deal of time and money trying to get cards from DX stations, we hate to destroy cards. However, it is not practical for us to keep cards around for years if we never hear anything from you. Bureau rules state that cards not claimed in 60 days will be destroyed. In reality, few sorters will do this, most of us will keep cards around for a year or more. However, a point is reached that we must destroy them. If we have sent several notices to you and not received a response, your cards are headed for "QSL Heaven".